LINER NOTES
ADDITIONAL NOTES
THE SOUTH AFRICAN NATIONAL ANTHEM: A HISTORY ON RECORD (extract)
By Siemon Allen

This text is extracted from an article on the early recordings of the South African National Anthem. The full version can be viewed at the Flaint blog.




STANZA 1


"Nkosi Sikelel' iAfrika" in isiXhosa and isiZulu

Nkosi sikelel' iAfrika
Maluphakanyisw' uphondo lwayo,
Yizwa imithandazo yethu,
Nkosi sikelela, thina lusapho lwayo.

Lord bless Africa
May her glory be lifted high
Hear our petitions
Lord bless us, your children10

The first stanza of the original lyrics to the hymn, Nkosi Sikelel' iAfrika, were written in isiXhosa by Enoch Mankayi Sontonga in 1897 at Nancefield (Klipspruit), seventeen kilometers west of Johannesburg. Sontonga, a school teacher at a Methodist mission school there, had "a gift for song" according to D.D.T. Jabavu and he avidly composed tunes for his students to use at public events.11

By some accounts Sontonga also composed the music for the hymn later that same year. Though there are notable articles online that suggest the melody is loosely based on a Welsh hymn entitled Aberystwyth written by Joseph Parry probably in 1879. According to these sources the hymn is likely to have travelled to Africa through Welsh missionaries.12

Many reputable websites have repeated this claim including an article by the BBC on a lost hymn by Parry that had been found by the conductor Edward-Rhys Harry.13 But the original source for the claim is a little more elusive. The earliest reference I have found online for the connection is from a Wikipedia entry for Nkosi Sikelel iAfrika which was updated in December 2010.14 (Watch the hymn being performed by the Tredegar Town Band at YouTube and feel free to make some comments below. Other performances can be found at YouTube, which may sway you in either direction.)

Written by hand in Tonic Sol-fa, Sontonga compiled his songs, including Nkosi Sikelel i'Afrika, in an exercise book that he hoped one day to publish, but sadly before doing so he died on April 18th, 1905.15 Mweli Skota, as Veit Erlmann reveals in African Stars, suggested that John Dube, the founder of the Ohlange Institute near Durban in 1901 and also the first President of the South African Native National Congress (SANNC) in 1912, was "so moved" by the tune that he asked permission for his choir at Ohlange to perform it.16 The choir would eventually popularise the tune while touring Natal and the Transvaal. Likewise friends and other choir teachers borrowed the manuscripts from Sontonga's widow after his death and eventually the original documents disappeared.17

According to David Coplan Nkosi Sikelel' iAfrika was first publicly sung in 1899 at the ordination ceremony of the Reverend M. Boweni, who became the first Tsonga clergyman in the Methodist Mission Church.18 On January 8th, 1912 the Ohlange Institute Choir performed the song after the closing prayer at the first meeting of the newly formed SANNC.19 Coplan suggests that Reuben T. Caluza directed the choir on this historical occasion but this might be reexamined in light of Erlmann's claim that Caluza only joined the staff at Ohlange Institute in 1915 replacing Lingard D. Bopela as choir leader.20

The SANNC officially shortened their name to the ANC or African National Congress in May 1923 and eventually adopted Nkosi Sikelel' iAfrika as their official anthem in 192521 replacing Reuben Caluza's Silusapho Lwase Afrika (aka "Umteto we Land Act") that had been their first anthem since 1913.22 (Coplan maintains that this all took place in 1925 though Veit Erlmann contradicts this account by suggesting that Nkosi Sikelel iAfrika was adopted by the SANNC in 1919.)

Seven more verses in isiXhosa, penned by poet Samuel E. Mqhayi, were added in 1927 and first published in the form of a pamphlet by the Lovedale Press that same year. The song was also printed in the newspaper, Umteteli wa Bantu on June 11th, 192723 and subsequently included in hymnals (1929) and books on poetry. The popularity of the hymn spread throughout Africa and variations of the tune were eventually adopted as national anthems by a number of countries including Tanzania, Zambia, for a time Zimbabwe and Namibia and perhaps somewhat ironically by the Transkei "Bantustan" at its formation in 1963.24

With the adoption of the hymn by the ANC as its official anthem, the song was sung at many official events. But it could also be heard at most gatherings of protest and subsequently became a rallying cry and symbol of resistance. The role of the hymn in this way shifted from a religious to a political context. By many accounts, the song was apparently banned by the apartheid government after the Sharpeville massacre of 1960, when both the ANC and PAC were outlawed, but I am still searching for more specific documentation of this ban. Ironically, there were examples of the song being tolerated by the apartheid government in the 1960s and this is discussed in more detail below.


ST. PETERS SCHOOL AND CHURCH CHOIRS
1930 June 16
Nkosi Sikelel'i Afrika (God Bless Africa) (Enoch Sontonga) (Xhosa)
Conducted by G.A. Broughton
Recorded in at ABC studios, Johannesburg (made in the UK)
Regal, GR 1, matrix WEA 169
Regal Zonophone, GR 1, matrix WEA 169
(early 1930s reissue of Regal GR 1) (made in UK)
Columbia, YE 117, matrix WEA 169
(brown label reissue, 1950s)

This recording of Nkosi Sikelel iAfrika was made on June 16th, 1930 by the St. Peters School and Church Choir, conducted by G.A. Broughton. The reverse side has two tracks composed by John Knox Bokwe, and sung by the St. Peters Hostel Choir conducted by G. Nongauza.

A number of recordings were made in Johannesburg and these were all issued on Columbia's light-green Regal label. Regal had been established as a mid-priced label by the company in 1914. The company shifted their coupling number prefix for UK domestic issues to MR in March 1930.48 Some have said that the MR denotes "Magenta Regal" which also happens to be the colour of the label. Likewise this might explain why the light-green labels of the South African issues were given a GR prefix, perhaps for "Green Regal". The image above shows a 1950s reissue on the Columbia label but an example on the Regal label does exist in the ILAM archives.

Given the change in number prefixes by the Graphophone Company, it is likely that the South African GR series was also issued after March in 1930. The series included songs in a range of Southern African languages including isiXhosa, Sesotho, Afrikaans, Chopi, and Chikaranga (or Shangaan). The highest number I have found to date is GR 54 by Die Vyf Vastrappers.50 Of course, I think it is quite significant that the label's first issue, GR 1, was a recording of Sontonga's anthem Nkosi Sikelel iAfrika.

At first, I thought these recordings were made around June 1929, based on a small note that seminal ethnomusicologist Hugh Tracey mentions in an account in his 1972 publication: The Sound of Africa Series, Volume One. Here Tracey recalls with some explicit detail:

"My first recordings of African music were published by the Columbia [Grapho]phone Company in 1930 under their Regal label. They were all Rhodesian Karanga songs which I had known for some years. I collected together the twelve men from whom I had first heard them and brought them down by lorry to Johannesburg in July 1929, each to lead the singing of his own song. These constituted the first recordings of authentic folk music from Rhodesia ever published. Five 78 rpm discs only (ten items) of the early series are still preserved in the ILAM archive (GR 33, 35, 36, 38 and 40)."51

In July 2015, I embarked on a photographic project to document the commercial records in the ILAM archive. Sure enough, the label of GR 38 has a small hand written note in pen: "JHB. 1928." Interestingly, the "8" has been overwritten with a "9" at a later time in a different pen and then signed "HT". It is probably from these notes the Tracey was able to recall the date, though given that there was some confusion between 1928 and 1929, both dates must have been written long after the records came into his possession.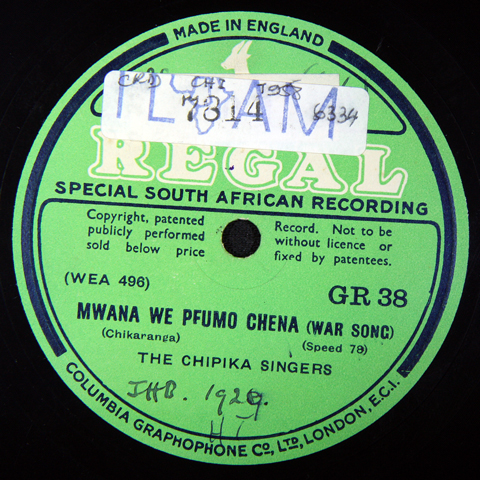 Hugh Tracey's hand written notes on Regal, GR 38. Source: ILAM. Photo by flatint.



Tracey was mistaken!, Rob Allingham insisted when I asked him about the date of the Regal recordings. According to Allingham the recordings were made in 1930. But I needed to be sure, and subsequently embarked on an investigation of various newspapers on mircrofilm at the South African National Library in Cape Town.

The correct date was finally found in the Rand Daily Mail! According to the journalist Musicus, the Columbia Graphophone Company, the UK-based competitor of Gramophone Company, sent two recording experts, Gustav W. Cook and Frank Chown to Cape Town around May, 1930. They had come at the invitation of Messrs. H. Polliack and Co., Ltd. who were the agents for Columbia in South Africa. After making about 150 recordings of mostly Afrikaans music in Cape Town, the pair arrived in Johannesburg on June 11th and began recording at the studios of ABC (African Broadcasting Company) on June 16th, 1930. (RDM, 1930-06-05, 1930-06-12, 1930-06-17)

Tracey's recollections, unfortunately, were incorrect. Interestingly, an early photograph in the ILAM Photo Archive shows Tracey recording in Johannesburg with the "Karanga" men. The meta-data for this image also incorrectly states that it was taken "approximately in June 1929".52 Tracey, in his text, does go on to say that he traveled by train with an additional group of "Karanga" men to Cape Town in 1933 when another Columbia unit visited from the UK. The final nail comes from Percival Kirby's autobiography, Wits End, in which he discusses witnessing the recording of the ten Karanga men brought by Tracey at the [ABC] studios in late July, 1930. (Kirby, WE, p. 226., Thank you to Anthea van Wieringen for leading me to this source.)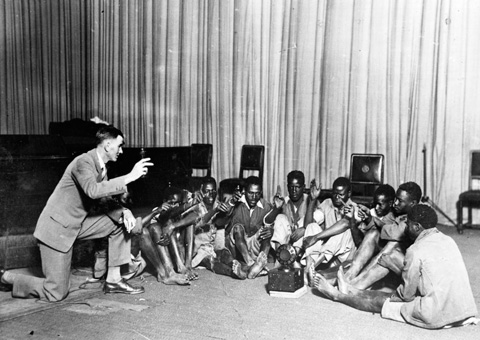 Hugh Tracey with The Chipika Singers, JHB, July 1930. Source ILAM Photo Archive with kind permission.

The recordings by the "Karanaga" men were issued on the Regal label as The Chipika Singers (GR 33 - 40) with the matrix numbers WEA 484 - 502.53 The recording of Nkosi Sikelel iAfrika has the matrix number WEA 169 suggesting that is was recorded well before those of The Chipika Singers. To make things a little more complicated these early Regal and Columbia issues have an additional five-digit matrix in the lead-out of the shellac. At first I thought that these were 'global' matrix numbers designated by Columbia's head office back in the UK while the WEA matrix numbers were applied specifically for the South African issues. But I was told by Rob Allingham that these numbers are "face numbers" that reflect the order of master processing and, unlike matrix numbers, have little historical importance. Nkosi Sikelel iAfrika has the face number 54779 (WEA 169) which comes before recordings by The City Deep Natives from 54971 to 55013 (issued as WEA 238 - 245, GR 15 - 18).54

For an exact date of the recording of Nkosi Sikelel iAfrika, I return to the Rand Daily Mail. A small caption accompanying a photograph in the June 17, 1930 issue reads: "RECORDING NATIVE SONGS.—The scene in the African Broadcasting Company's studio yesterday, when records were taken for the Columbia organisation of songs sung by the native choirs of St. Agnes and St. Peter's Schools, Johannesburg." To be sure, a later article confirms that the two Columbia experts began recording in Johannesburg on June 16th 1930. (RDM, 1930-06-17, 1930-07-03)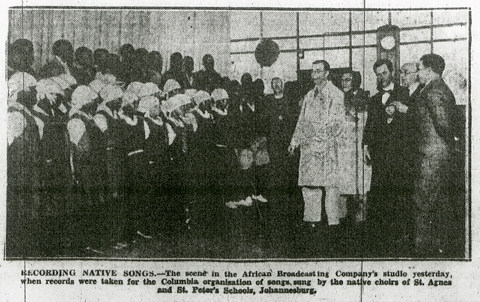 St. Peters Hostel Choir conducted by G. Nongauza, June 16, 1930
WEA 152 a) Ixesha Lokunduluka (Time of Departing) (J.K. Bokwe)
b) Msindisi Waboni (Saviour of Sinners) (J.K. Bokwe) (Regal, GR 1)
WEA 156 Ixegwana (Reuben T. Caluza) (Regal, GR 13)

St. Peters Church Choir conducted by G.A. Broughton, June 16, 1930
WEA 158 Fika Ya Bo-Sa-Khutlen (Rock of Ages) (Redhead) (Regal, GR 5)
WEA 166 Morena, O Nee Le Nna Mo Bonchun L (Abide With Me) (Monk) (GR 5)

St. Peters School and Church Choirs conducted by G.A. Broughton, June 16, 1930
WEA 169 Nkosi Sikeleli' Afrika (God Bless Africa) (Sontonga, Enoch)

St. Peter's, perhaps now somewhat forgotten, included a Secondary School, a church, a hostel (housing 40 boarders in the 1930s), and then later a theological college. This school was one of the first in South Africa where black students could receive a matriculation. Of course, this legendary missionary institution educated the likes of Oliver Tambo, Es'kia Mphahlele, Peter Abrahams, Hugh Masekela, Jonas Gwangwa, Desmond Tutu and Kgalema Motlanthe to name but a few. Even the iconic painter, Gerard Sekoto, had a studio in this leafy complex, located in the suburb of Rosettenville, south of Johannesburg.55 To be sure, there is an excellent chapter dedicated to this school and its influence on the formative years of Oliver Tambo in his biography, Beyond the Engeli Mountains, by Luli Callinicos.56

In 1909 Lady Selbourne, the wife of the then High Commissioner, established St. Agnes, a residential training school for black female domestic workers in central Johannesburg. The project was eventually transferred to an order of the High Anglican Church known as the Community of Resurrection and at some point the focus of the institution shifted to boys' education and was renamed St. Peter's. In the 1920s Father Osmond Victor relocated the institution from central Johannesburg to what was then the relatively unpopulated suburb of Rosettenville and by 1925 the new campus was opened.57

The Community of Resurrection (or CR), founded in England in 1892, by many accounts was a progressive religious order which Callinicos in his book affirms: "This consideration of the working class people, together with a broader, more intellectual and flexible view of the message of the Bible than was generally accepted at the time, marked members of the CR as socially radical". As Brother Roger Castle, a housemaster at the school declared: "St.Peter's is trying to produce an educated, self-disciplined, Christian youth, capable of becoming the leaders of the New Africa."58

Though viewed by some as paternalistic, the "CR was more sensitive to cultural identity than the vast majority of missionaries" and had an educational policy that was integrationist. For obvious reasons the CR had to operate prudently in the context of South Africa as to avoid controversy and so while their students were mostly black their staff was still quite multi-racial.59

In addition the school encouraged professionals from the greater community to visit the school. For example, Selope Thelma, a journalist and subeditor of The Bantu World would come each Wednesday and give the students a lesson in African history including topics such as the "struggle against colonialism and oppression." Ultimately as Callinicos points out Thelma showed the boys that "they had a role to play."60

The school's impact in shaping the identity of a young Oliver Tambo in the 1930s, was significant. While most pupils were drawn from the Traansvaal, the student body was still culturally eclectic with a broad range of African languages being spoken. Tambo points out: "I was now at an institution that was representative of the whole country, the whole of South Africa - a school that had most of the attributes of a national, as distinct from a local institution. I had entered a wider world".61 Tambo matriculated from the school in 1938 but when writing his Junior Certificate in 1936, he became the first 'African' student to pass with a first-class degree — news that became sensational countrywide at that time.

Tambo was also a member of the choir and he points out that the school had an excellent reputation for singing. A visitor to the College in 1926, as Callinicos reveals, glowingly referred to the choir in this way: "what that of black velvet would be, could it sing. The rich, blurry effect is increased by the fact... they sing in English, Dutch, Sechuana and Sekosa (sic) words all at once... The fire and emphasis imparted to one's halting words by the interpreter is something wonderful".62

In a recollection of his first year at St.Peter's, which must have been in the early 1930s, Tambo mentions a senior boy, Christopher Nkumbane, who was one of the finest singers at the school. It is possible that, as a younger student, Nkumbane could be singing on the 1930 Regal recording of Nkosi Sikelel iAfrika. Moreover Tambo recalls with fondness the influence of the choir conductor Mr. Nonqausa, the same (though spelt differently) that conducts the hostel choir on the reverse side of the disc. In a substantial paragraph Callinicos outlines Tambo's account of Nonqausa's influence:

"The deep and lasting perception of injustice - a 'sense of moral legitimacy', which was spreading throughout colonial Africa - was trickling down into even the most respectable black Christian schools. In the more suggestive lessons, sermons and songs, invocations of resistance could already be discerned. 'I came to know a plethora of choral music in the vernacular whose theme focused on and deplored the social, economic and political status of the African - of the black person. Virtually all these songs, many of them prepared by some of the most famous composers in the country, urged the African to rise up and take his proper place among the nations of the world. The first of these that I came across was a song by the St. Peter's Secondary School Choir, conducted by Mr. Nonqausa who was the choirmaster in 1934: "Awake, awake ye nations of Africa, Why are you content to remain in darkness?" These were the opening words. [But] there were scores of other songs pursuing the same theme: "Masizas Vukane Ma Wethu, Vukane Ma Wethu." "Awake , O My People", which begins by lamenting the sad plight of the black person in Africa and ends with a rousing call to the people to awake and unite in action, is one of the classics in South African choral music. It is a striking and even a central characteristic of the culture of the black people of South Africa that at moments of joy, grief or danger they resort to singing. The end result is that the country resounds with song, much of it dedicated to our hopes for the future.'"63

Of course the school's impact on the history of South African music would not end in choral singing. In 1954, a fourteen year old student was given his first musical instrument by the school's superintendent. Who would know then what impact this action would have on a very young Hugh Masekela by the Father Trevor Huddleston. Soon other instruments were acquired and Masekela along with his school friend, Jonas Gwangwa, on trombone, formed the legendary Father Huddleston Jazz Band.

Huddleston's impact on South African history reached way beyond music. It was while he was at St. Peter's that he wrote his famous memoir: Naught For Your Comfort, a blistering attack on apartheid South Africa that was eventually published in the UK in 1956 and became a best-seller.64

St. Peter's, under Huddleston, was by the early 1950s accepting 1500 students.65 But the apartheid government saw the school and many other similar missionaries as a threat and in 1953 imposed the Bantu Education Act forcing them to adopt its racially motivated inferior education policies or close. Huddleston was faced with an impossible dilemma, to educate black students poorly or not at all, and in a courageous decision he decided to close what he loved most dearly. In an article, as Piers McGrandle reveals, he would write this opinion justifying his actions:

"It is still happily possible to prefer death to dishonour. St. Peter's will die. There is only one path open to the African: it is the path back to tribal culture and tradition: to ethnic groups; to the reserves; to anywhere other than the privileged places habited by the master race. It is because we can't accept such principles that we are closing St. Peter's..."66

Huddleston's active campaigning against the apartheid government had spread and his notoriety had escalated. In 1955 he was recalled by the Community of Resurrection and in March 1956 he was relocated first to the United States and then other countries. At his farewell concert at the Bantu Men's Social Club (BMSC), enough funds were raised that Union Artists, the sponsors of the event, were able to buy Dorkay House. This permanent training and performance venue would soon become a crucible for South African Jazz.

Whilst in the United States, Huddleston met amongst many others Martin Luther King and Louis Armstrong. He mentioned the Huddleston Jazz Band and Masekela to Armstrong who was so moved that he gave him his FX Huller trumpet as a donation, which Huddleston subsequently sent back to Masekela in South Africa.67

For a time, the theological college at St. Peter's remained and drew student's like Desmond Tutu who became an ordained minister there in 1961.68 Ultimately the government forced the college to close in 1963 and it relocated to the new ecumenical Federal Theological Seminary in Alice near fort Hare in the Eastern Cape.69
ST. PETER'S SCHOOL AND CHURCH CHOIRS
IXESHA LOKUNDULUKA / NKOSI SIKELEL IAFRIKA


recorded 1930-06-16
issued 1950s
Columbia YE
EMI
made in UK
YE 117
matrix WEA 152
matrix WEA 169
78 rpm
reissue
source: flatnternational / Kirby

TRACK LISTING
ARTISTS
NOTES
This version of Nkosi Sikelel iAfrika is possibly the third known recording of the iconic hymn that would eventually become part of the National Anthem of South Africa and a number of other African countries.

The Columbia disc is a reissue from the 1950s. The disc was first issued on the Regal label as GR 1 in 1930 and a copy of that disc can be found in the ILAM Archive. The recording was also reissued on the Regal Zonophone label (GR 1) in the 1930s.

The GR 1 disc carries an additional five-digit matrix number in the lead-out of the shellac: 54779.

For more information about this record and the anthem, read my full article, The South African National Anthem: a history on record at the Flatint blog. An extract from the essay can be viewed in the liner notes section to the left.

This particular record was part of a personal collection of 78 rpms that were owned by ethnomusicologist Percival Kirby. To be sure, Kirby made hand-written notes on many of the labels, for example here on the A-side. At some point the discs were acquired by, Johannesburg collector, Warren Siebrits who subsequently passed them onto the Flat International archive.

Many thanks to Warren Siebrits for leading me to this record!